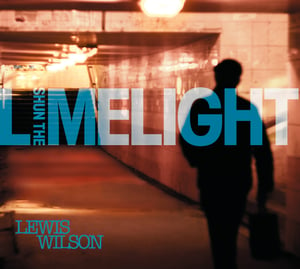 £

8.50 - On Sale
Limited Edition Digipack ; Pre Order. This item will be released on JUNE 1st.
2018 sees the release of the fantastic new album 'shun the LIMELIGHT' the 6th offering by Lewis Wilson who's return to the melodic highway is a triumphant one. Appearing on the album is Producer and multi instrumentalst Stuart Kidd who's musicality and sensibility's always make for some great sonic adventures.

Here's an insight to some of the new songs on 'shun the LIMELIGHT' we hope you enjoy the album. Gem Town Records. https://lewiswilson1.bandcamp.com/album/shun-the-limelight
LW Spring *2018 :
I can't wait to share the new songs, Im buzzing how the new album has turned out. Some of its quite stripped back in production, yet some of its quite expansive and I feel there is a nice blend of melodies too.
One song of the album, a new song called "You Gotta Find Hope" is a tribute to David Bowie. A song I wrote shortly after his passing. I'm not a massive fan but liked some of his records and appreciated the man as the artist and genius. Sadly sometimes it's not till someone's gone that you realise their music affected your life in one way or another even if it's just one song.
During the making of the album I also found an old demo tape from the late nineties, it had around 20 songs on it. One song stood out, a track called "7th World". I had to record it! A top track, laden with harmonies. Didn't change much from the demo recorded at College. Tweaked the arrangement and added some synth and pounding drums courtesy of Stuart Kidd who features on the album. I was pleased the track made the cut and is in the running to be the first single.
A newer song on the album (and one of my favs) from the last year a song called "Brand New" is a nod to Social Media and the modern world. "I'll follow you, you're brand new" the chorus goes. It wasn't intended to be so when written, but that's the beauty in writing songs sometimes the meaning/things change along the way, some songs turn out the way you thought, others take on a new life.
Another album highlight for me is a track called "Squeeze Me" a joyful track with a uplifting chorus. I feel this track has some spirit of Scottish popsters BMX Bandits. Not in sound, just a vibe/flavour thing and I'm glad it made the cut.
it's been a journey and a half working on these songs. I originally recorded the album then left it for the best part of a year. That was great, cause when I went back to mix the songs everything was sounding fresh and new. Spring *2018 :